Awaken your creativity with our exclusive Paint By Numbers Customized Kits. Whether you're a budding artist or searching for a remarkable gift, our customized kits offer an immersive and unforgettable painting experience. Effortlessly unleash your inner artist by transforming your cherished photos into captivating masterpieces. Enhance your Paint By Numbers Customized kit with our Detail Paint Brushes, perfect for adding intricate and delicate details to your artwork.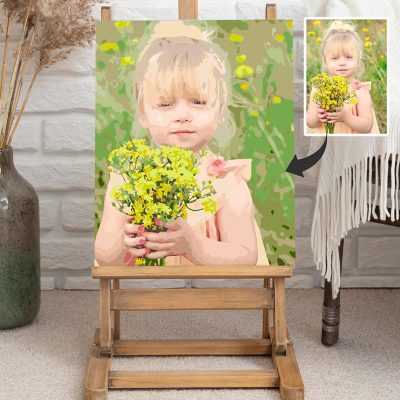 Why Choose Our Paint By Numbers Customized Kit?
Embrace the Joy of Painting: Immerse yourself in the fulfilling process of bringing your precious memories to life through painting. With each brushstroke, witness your artwork evolve into a vibrant representation, showcasing vivid colors and meticulous details. Our Custom Painting by Numbers kits provides a therapeutic and calming experience, allowing you to unwind while tapping into your artistic abilities.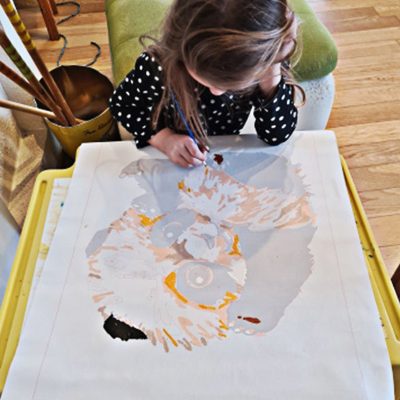 Thoughtful and Personalized Gifts: Our kits not only encourage artistic expression but also make heartfelt presents for birthdays, anniversaries, and other special occasions. Immortalize treasured moments, beloved pets, or breathtaking landscapes in a unique and personalized manner, creating lasting memories for your loved ones.
How Does Our Custom Kit Work?
When it comes to creating a customized Paint By Numbers kit, there are a few essential factors to consider for the best possible outcome. Here are some tips to get you started:
Choose a high-quality, focused photo: Opt for clear and crisp images, as blurry or low-resolution photos may not translate well into a painting.
Minimize background distractions: Select photos with simple and uncluttered backgrounds to ensure a clean and clear painting.
Consider group size: For optimal results, use photos with no more than five people to capture the essence of each individual.
Lighting and close-ups matter: High-quality close-up photos with good lighting capture the small details and nuances that make your photo unique.
What's Inside Our Paint By Numbers Customized Kits:
Each custom kit contains premium materials to ensure an exceptional painting journey. Discover a meticulously outlined design on a high-quality canvas, accompanied by a premium acrylic paint set. Our skilled team meticulously converts your chosen image into a detailed painting template, capturing every color and intricate detail. The canvas is conveniently divided into numbered sections that correspond to the provided paint pots.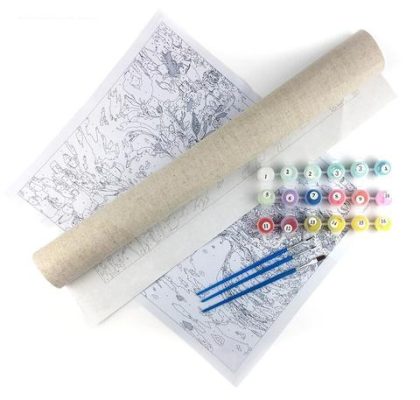 1x Numbered acrylic paint set (About 24 different colors, depending on the painting)
1x Numbered high-quality linen canvas
1x set of 3 paint brushes (1x small, 1x medium, 1x large)
Reference paper and a copy paper of the canvas to follow up the numbers easily.
Ordering your custom kit is a breeze. Simply provide us with the photo you desire to transform into a magnificent painting. Once you receive your kit, embark on an enjoyable and rewarding painting journey. Unleash your creativity, relieve stress, and proudly showcase your finished artwork as a testament to your artistic abilities.
How to paint your custom photo?
Step 1: Lay your acrylic canvas out on a flat surface. Organize your paint and apply base layers.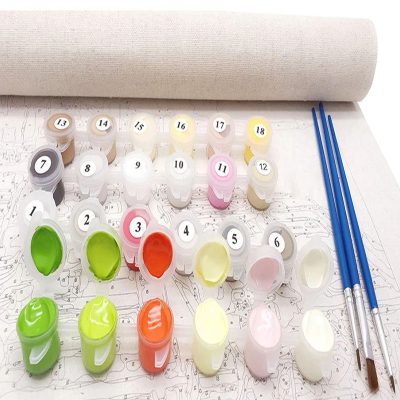 Step 2: Match the number of paint to the number on the canvas.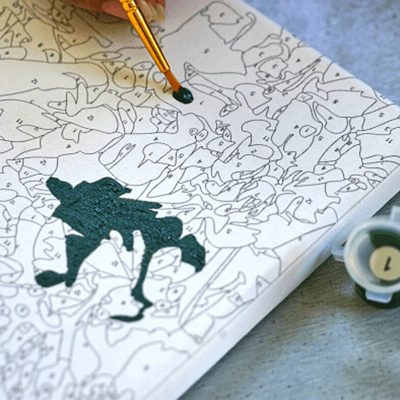 Step 3: Stand back and admire your beautiful work! We recommend posting your custom paint by number on social media.