Who says kids are the only ones who get to enjoy color by numbers ? Try our Black And White Marlon Brando Paint By Numbers kit for grown-ups. and create your very own masterpiece! With Paint by Numbers kits, not only can you dip your toe into the world of painting to see if it's for you, but you get to watch a beautiful artwork spring to life in front of your eyes.
Paint by Numbers kits can be a great way to explore your creativity and express yourself artistically, even if you have little or no experience with painting. Here are some reasons why you might consider trying a paint by numbers kit:
Paint by numbers kits provide all necessary materials including pre-printed canvas, numbered sections, paint colors, and brushes, making it easy to start without the hassle of color selection or mixing.
Painting with a Paint by Numbers kit is a low-pressure, relaxing, and enjoyable way to unwind and reduce stress, making it a great activity for a quiet afternoon or evening.
Paint by numbers kits are great gifts and bonding activities for creative friends, family, and children.
Overall, paint by numbers kits can be a fun, easy, and enjoyable way to explore your creativity and create beautiful artwork.
What Will I Be Getting In My Paint By Numbers Package:
1x Numbered acrylic paint set (About 24 different colors, depending on the painting)
1x set of 3 paint brushes (1x small, 1x medium, 1x large)
1x Numbered high-quality linen canvas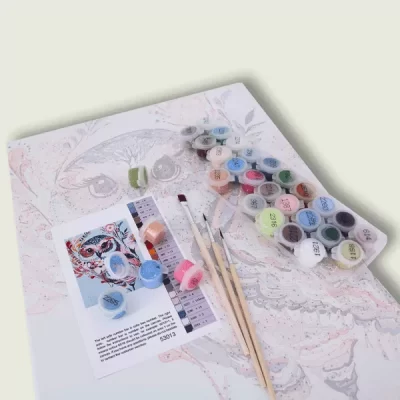 How To Paint By Numbers :
STEP 1: Prepare your Paint by Numbers kit

Lay your canvas on a flat surface. Organize your paints.

STEP 2: Follow Canvas numbers

Match the numbers of paints to the numbered areas on the canvas, and start applying the paints on the canvas.

STEP 3: Enjoy your Paint by Numbers

Stand back and admire your beautiful work! Posting your paint by numbers. on social media is also recommend